Huntsville, AL – Join Victory Solutions at the Space and Missile Defense (SMD) Symposium on August 10-12, 2021. The SMD Symposium brings together the top government and industry leaders in Space and Missile Defense from the United States and our allies around the world in one event.
Information and registration: https://smdsymposium.org/
FT. Rucker, AL – Join Victory Solutions at the United States Army Aviation Center of Excellence for 2021 Army Aviation Industry Days, on 20-22 July 2021. The purpose of Army Aviation Industry Days 2021 is to:
·Allow industry partners an opportunity to showcase their capabilities to the Army Aviation community
·Allow visitors to learn about technologies that support the Army's modernization priorities
·Provide leaders throughout the military, government laboratories, acquisition agencies, and industry partners a forum to share equities and build partnerships
·Provide industry access and insight to future modernization efforts
This is an annual event conducted at the Home of Army Aviation, Fort Rucker, Alabama. The event is open to industry and the Fort Rucker community.
For coordination of industry participation, booth space, and sponsorship opportunities, contact Mr. Chris Dickson, Sponsorship and Advertising Manager, USAG Fort Rucker FMWR,
(334) 255-1898, christopher.a.dickson8.naf@mail.mil
Victory Solutions Systems Engineering, Configuration Management, and Engineering Personnel conduct lunch and learn to discuss Model Based Systems Engineering (MBSE) technologies to support Marshall Space Flight Center (MSFC) Programs.
Victory Solutions, Inc. will host a booth at the Space and Missile Defense Symposium at the Von Braun Center in downtown Huntsville from August 8-10, 2017. Exhibitor booths will be open each day beginning at 9:45am, with free attendance for anyone looking to walk the floor.
Additionally, we encourage anyone stopping by to practice their golf skills at our booth putting green! Disclaimer: we are not responsible for any competitive edge that arises when putting amongst peers.
Details for the event can be found on the SMD Symposium website: https://smdsymposium.org/
We look forward to seeing you there!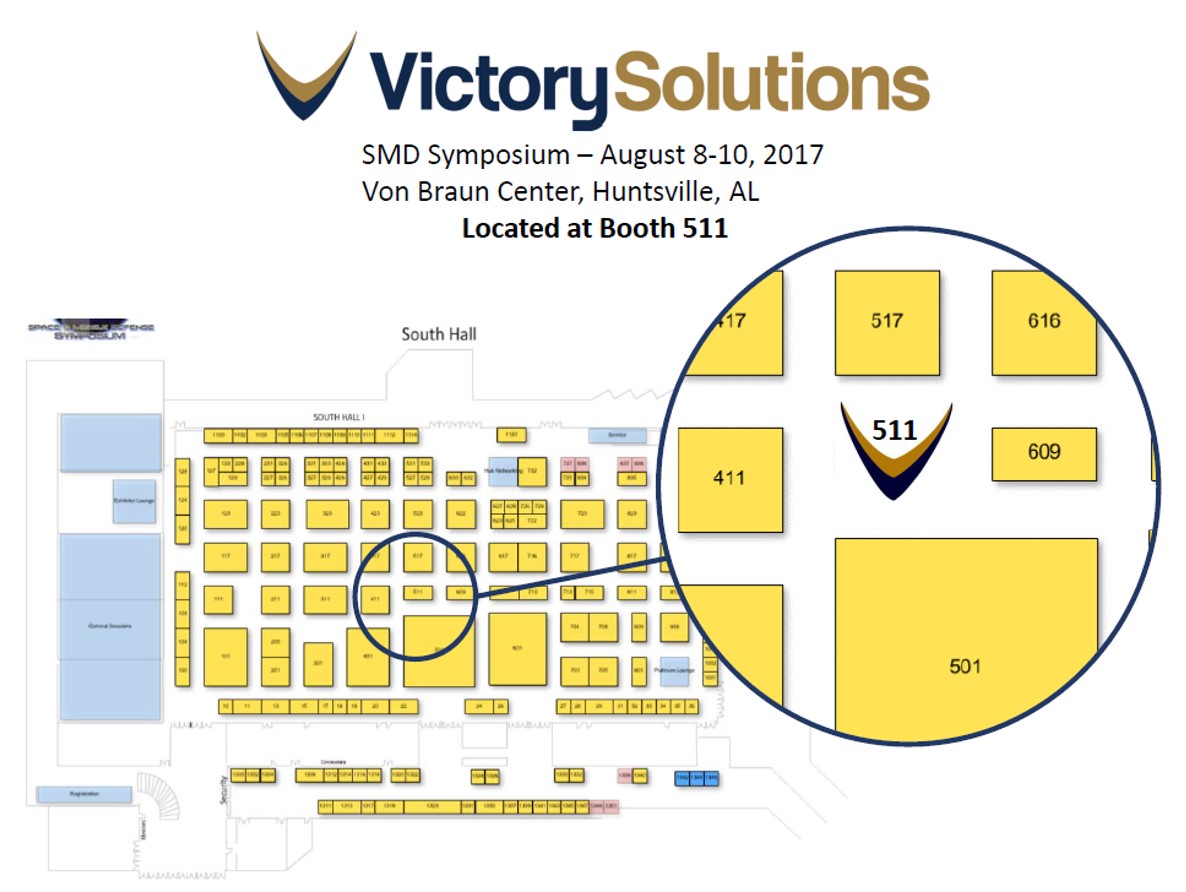 Victory Solutions demonstrated engineering technology in action at the 2nd Annual High School STEM Career Fair in Charleston, South Carolina. Over 2,000 students attended the event to learn about how they can pursue a career in Science, Technology, Engineering, and Math. At the Victory Solutions exhibit, mechanical and aerospace engineers showed students how to use 3D scanning and 3D printing technology to drive rapid design and prototyping for the defense and aerospace industry. The students were especially interested in how Victory Solutions uses composite materials and fiber-reinforced 3D printing to design strong, lightweight parts for aerospace structures and other leading edge technologies. Victory Solutions was proud to participate in the event and to see the enthusiasm of the next generation of engineers that will drive the technology horizon forward.
An article by the Charleston Regional Business Journal summed up the event, including mention of VSI's participation.