Small Victories in conjunction with VictoryVets, Victory Solutions' veterans employee resource group, made a donation to the Decatur VFW 4190 for Homeless Veterans. John Ryan, Victory Solutions Chief Operating Officer, presents the donation to Ms. Jeanie Ryan, Commander VFW 4190 for Homeless Veterans. The VFW's Homeless Veterans Initiative strengthens programs that prevent and end homelessness among veterans offering a range of services to homeless vets including providing coats, clothing and shoes, food and shelter. #veterans #vfw #communityservice
Huntsville, AL (September 2, 2021) – Hurricane Ida has devastated the communities in the southern Louisiana area. With several of our employees having close ties to the region, Victory Solutions purchased food, paper products, cleaning supplies, flashlights, tarps, repair materials and other essential items to support victims of the hurricane and aid in the relief efforts. Employees packed emergency aid boxes of food and essential items to distribute to impacted families in the area.
Huntsville, AL (August 7, 2021) – The Small Victories Committee organized a volunteer opportunity for Victory Solutions employees to work a Saturday at the CASA Garden harvesting fruits and vegetables, weeding raised beds and providing general clean up. The CASA Garden provides nutritious, fresh, organic produce for the elderly and homebound in our community. This is the second time this year Small Victories has organized a volunteer group to work at the CASA Garden. Our thanks to Carol Sivley for coordinating the effort!
Information about the services CASA provides including the CASA Garden can be found at https://casamadisoncty.org/
Huntsville, AL (June 19, 2021) –Victory Solutions supported the annual March of Dimes March for Babies raising over $2000 in support of this collective effort to transform the health of moms and babies. Although the March of Dimes conducted their event virtually, Victory Solutions employees met at Big Spring Park for a socially distanced one mile walk around the park. This is the third year employees have participated in the event and met our fundraising goal. Our thanks to Emily Walters for coordinating Victory Solutions participation in this event!
Information about the March of Dimes mission and their efforts can be found at https://www.marchofdimes.org/
Victory Solutions team members participated in the Liz Hurley Ribbon Run on Saturday, October 19, 2019. The team raised money to benefit the Liz Hurley Breast Cancer Fund, which supports programs that create awareness about breast cancer, and provides diagnostic equipment for Huntsville and Madison Hospital Breast Centers.
This past Saturday morning, our Victory Solutions Racing Team ran in the 9/11 Heroes Run in Athens, Alabama.  As the top fundraising team, they raised more than $500 to benefit the Travis Manion Foundation while also honoring veterans, first responders, and the families of fallen heroes.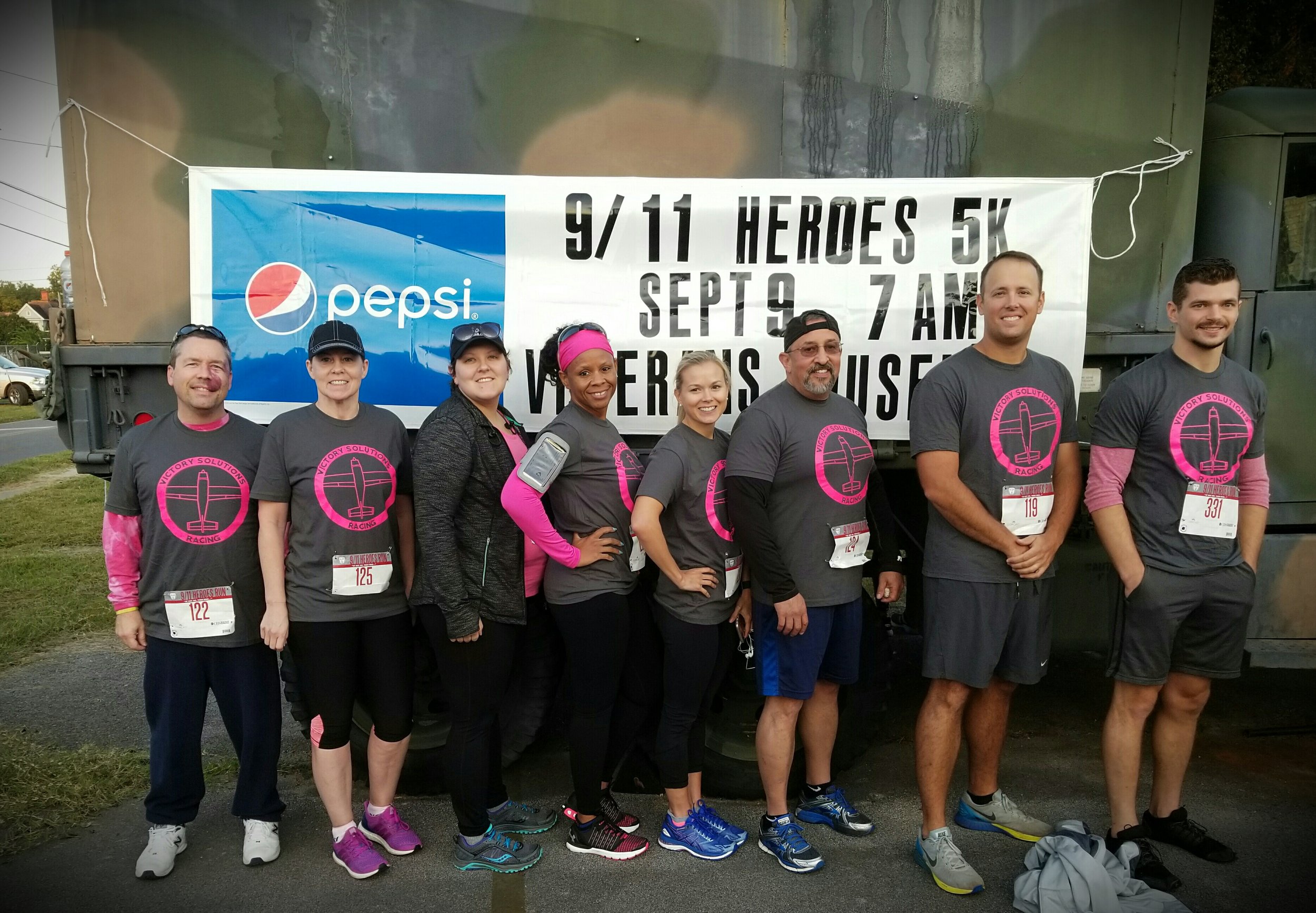 Victory Solutions, Inc. (VSI) employees, along with 6,000+ eager and colorful individuals, participated in the 13th Annual Liz Hurley Ribbon Run (5K) on October 15, 2016.  Team VSI - "Small Victories for a Large Battle" - registered this year with 16 participants and raised $2,620.00 with a Corporate Match from VSI for all donations.  Proceeds from the 2016 Ribbon Run will help purchase a biopsy system to be used in conjunction with 3D mammography and allow breast radiologists to perform 3D tomo-assisted breast biopsies.  Event proceeds will also provide an ultrasound machine that will enhance the Breast Center's screening capabilities.
Thank you Team VSI for your participation this year! The team had an awesome morning running and walking through beautiful downtown Huntsville, including the Twickenham and Old Town Historic Districts.  Victory Solutions looks forward to participating in the next Liz Hurley Ribbon Run to support this great cause.
Small Victories, the Employee Community Fund of Victory Solutions, Inc. (VSI), contributed over 125 volunteer hours at the Habitat for Humanity of Madison County ReStore.  ReStore strives to keep operating costs as low as possible to maximize the amount of money that goes directly to benefit our community, and volunteers are one of the ways to achieve this goal.  Team VSI had 25 employees volunteer at the Habitat ReStore in a wide variety of ways, sorting, labeling and disposing of donated supplies, and clearing overgrown brush and extensive debris from the loading area.  In the duration of one work day, Team VSI filled an oversized dumpster with debris, and transformed the ReStore areas devoted to paint, tools, lumber, screws and nails, plumbing, and windows.
"Mr. Don, the Warehouse Coordinator, just kept saying how impressed he was by our team, and how grateful he was to have a group focus on the warehouse, as 'it desperately needed it'." - VSI volunteer
"Despite the heat, these VSI employees worked tirelessly to make the ReStore facility a clean, user-friendly, and safe area.  I know their volunteer hours will help the Habitat team with many upcoming housing efforts." - VSI Chief Operating Officer